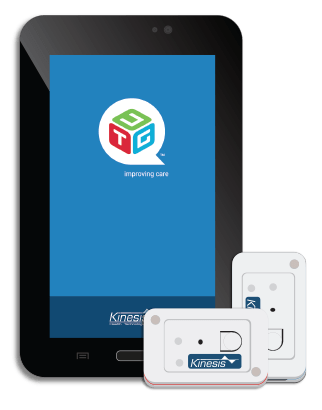 Kinesis QTUG
Mobility and Falls Risk Assessment Technology.
Assisting those assessing falls risk, by providing a falls risk score (FRE) and a frailty score along with fast, accurate and objective data.
Kinesis Health Technologies – Your Falls Prevention Partner
Kinesis QTUG™ – A proven tool for falls risk assessment

Kinesis QTUG is an objective tool for identifying older adults at risk of falling. QTUG™ (Quantitative Timed Up and Go) is based on the Timed Up and Go test and is instrumented with wireless sensors placed on each leg. This technology provides a method for objective assessment of mobility, frailty and falls risk. It provides automatic analysis of patient data against average values for patient's age and gender with colour coding to indicate deviations from normality.
QTUG™ is intended to assist those assessing falls risk, by providing a falls risk score (known as the Falls Risk Estimate (FRE)) and a frailty score (known as the Frailty Estimate) along with fast, accurate and objective data. QTUG™ also incorporates a questionnaire based on the American Geriatric Society (AGS) and British Geriatric Society (BGS) guidelines recording standard falls risk-factors.
Kinesis QTUG™ Key Features
Falls Prevention, Gait and Mobility assessment. Proven technology – Improving quality of care for older adults.
Accurate assessment of falls risk
Prevent falls through more accurate assessment and referral!
Quantitative Timed Up and Go (QTUG™) provides Falls risk score (a validated risk profile of a patient's future risk of having a fall). QTUG™ also provides an estimate of Frailty. The Falls risk and Frailty scores have been extensively validated by eleven years of research.
Functional analysis of mobility
Mobility scores identify mobility impairment by grouping mobility parameters into five functional categories: walking, variability, symmetry, transfers and turning. Scores are calculated by comparing the patient's mobility against population data for their age and gender. A high mobility score indicates a that the patient may have a problem in the functional area highlighted and may benefit from specific therapy.
Trend TUG time, falls risk and frailty over time
QTUG™ can be used to determine how a patient responds to intervention , therapy or medication by analyzing falls risk assessment and frailty scores as well as gait and mobility data across multiple assessments. Trend Falls risk, Frailty and TUG test data over time as well as view all historical tests.
Track clinical Fall risk factors
Includes a falls history questionnaire based on the American Geriatric Society/British Geriatric Society (AGS/BGS) guidelines for falls prevention. Record and store patients clinical falls risk factors and falls history for future reference. These clinical fall risk factors are combined with sensor data to provide reliable and objective fall risk assessment.
Gait & Mobility assessment
Quantitative assessment of each phase of the TUG (Timed Up and Go) test including, standing, sitting, walking and turning. Customise results by pinning most relevant data to the summary results screen. Data are colour-coded to highlight any statistical deviations in mobility from reference values.
NOT CONVINCED YET?
Take the tour and learn how QTUG™ can improve quality of care!